Most Translated File Formats
Most often, modern software is translated in the following formats.
XML file translations (Extensible Markup Language). XML is often used in translating software for storing and processing texts, labels and other user interface content. XML files are easy to translate because they are structured and have clearly defined elements.

JSON file translations (JavaScript Object Notation). JSON is also often used in translating software for storing and processing texts, labels and other user interface content. JSON files are easy to translate because they are structured and have clearly defined elements.

PO file translations (Portable Object). PO is a file format used in the Gettext system to store translations. PO files contain original texts and their translations, context, and plural information. PO files are easy to translate because they are textual and have clearly defined elements.

RESX file translations (Resource XML). RESX is a file format used in the .NET development environment for storing translations. RESX files contain labels and user interface texts in XML format. RESX files are easy to translate because they are structured and have clearly defined elements.

XML file translations (Localization Interchange File Format). XLF is a file format used in the XLIFF localization system for storing translations. XLF files contain original texts, their translations, and information about the context and version number. XLF files are easy to translate because they are structured and have clearly defined elements.

YAML file translations (YAML Ain't Markup Language). YAML is a file format used to translate software for storing and processing texts, labels and other user interface content. YAML files are easy to translate because they are textual and have clearly defined elements.

XML file translation (Extensible Markup Language). XML is one of the most commonly translated file formats used in software. It is a universal markup language that allows you to store and exchange data.

JSON (JavaScript Object Notation): JSON is a file format often used in software. It is a lightweight format that allows data to be stored and exchanged in a way that computers can process easily.

CSV file translations (Comma-Separated Values). CSV is a file format that is often used in software. The simple format allows for storing and exchanging data as a table.

XLIFF file translations (XML Localization Interchange File Format). XLIFF is the most popular file format the localisation industry uses worldwide, allowing us to process translations as XML files.

RESX file translations (Resource XML). filesRESX is a file format that is often used in software. This format allows you to store application resources as XML files.

Pox file translations (Plain Old XML). Pox is a file format that is often used in software. It is a simple format that allows you to store and exchange data in XML files.

Android XML file translations. Android XML is a file format often used to translate applications to Android. This format allows you to store translations in the form of XML files.

IOS Strings file translation. iOS Strings is a file format often used to translate apps to iOS. It is a format that allows you to store translation in text files.

Java Properties file translations. Java Properties is a file format often used in software written in Java. This format allows you to store application settings as text files.

INI file translations. INI Files is a file format that is often used in software. It is a simple format that allows you to store application settings as text files.

Gettext file translation. is a file format that is often used in the translation of open-source applications. It is a format that allows you to store translation in text files.

TMX file translations (Translation Memory eXchange). TMX is a file format that is often used in software translation. This format allows you to store translation memories in XML files.

SDLXLIFF file translation (SDL Trados XML Localization Interchange File Format by RWS). SDLXLIFF is a file format often used to translate software and other content using the popular RWS Trados software. This format allows you to store translations in the form of XML files.

RC file translation (Windows Resource File). RC is a file format that is often used in software for the Windows platform. This format allows you to store application resources as text files.
Software translation - what do you need to know?
At POZENA Multilingual, we specialize in software localization, adapting software products to meet a specific target market's linguistic, cultural, and technical requirements. Our experienced translators follow industry standards to ensure accurate and effective translations of user interfaces, technical documentation, and technical support. We use specialized dictionaries and modern localization technologies, such as CAT tools and Translation Memory management systems, for greater consistency and efficiency. We also offer quality testing, integration with CMS, and support for various file formats and technologies. Our multilingual software translations help companies expand into new markets and gain a competitive edge. We prioritize data security and intellectual property protection and strive to build long-term customer partnerships based on trust and quality.
Cooperation with experienced specialists
Translators of the POZENA Multilingual have experienced specialists who know computer science, technology and linguistics. The team of translators has the necessary skills and experience to translate software and content contained in computer files while ensuring its functionality and compliance with the target market's requirements. Translators are also aware of cultural differences and terminology specific to the IT industry.
Technical terminology and dictionary management
Terminology management is a key component of the software translation. The POZENA Multilingual ensures terminological consistency and uses specialized dictionaries and terminological databases. This helps to avoid misunderstandings and errors that may affect the quality of the translation and the functioning of the software. Using uniform terminology also increases the clarity and usability of the software for the target users.
Software translation quality testing
Quality testing is essential to ensure the software translation meets all requirements. The POZENA Multilingual offers translation quality testing services, including checking the software's linguistic, terminological and functionalities after translation. Thanks to this, the customer can be sure that the delivered product meets quality standards.
Use of CAT tools and translation technologies
The POZENA Multilingual uses modern translation technologies such as cat (Computer-Assisted Translation) tools, Translation Memory management systems, and more modern neural systems. Thanks to these tools, translators can work faster and more efficiently, which shortens project implementation time and reduces translation costs. The use of translation technologies also guarantees greater terminological and stylistic consistency of translations, which is crucial in the case of software translation.
Integration with Content Management Systems (CMS)
POZENA Multilingual supports integrating software translations with content management systems (CMS). Thanks to this, the translation process is optimized, allowing faster changes and updates. We work with various CMS platforms, which allows us to be flexible and adapt to the needs of corporate clients. Many CMSs can be easily integrated into our translation service, especially when the customer is an IT company with full competencies.
Optimization of the software translation process
To ensure the highest quality of software translations, POZENA Multilingual optimizes technical and organizational processes. We use modern project management methods like Agile and Scrum, allowing flexibility, speed and efficiency. Thanks to this, we can provide services in a shorter time and accordance with customer expectations.
Protection of intellectual property and customer data in software translation.
Data security and intellectual property protection are a priority for POZENA Multilingual. That's why we use stringent security measures, such as encryption, access control, and confidentiality agreements with translators and partners. No customer content, of course, is sent over the Internet to popular public translation services. This way, we ensure that the software and technical documentation information is protected from unauthorized access and use.
Support for file formats and technologies
POZENA Multilingual supports various file formats and technologies used in the software industry. Thanks to this, we can adapt to the requirements and needs of customers by offering comprehensive translation solutions. We work with formats such as XML, JSON, HTML, CSS and many others, which we write about in detail, allowing for smooth cooperation with development teams.
Multilingual support
POZENA Multilingual offers multilingual software translations, allowing companies to expand into new markets and expand the reach of their products. Thanks to the work of our experienced translators specializing in various languages and disciplines, we can provide high-quality translations that meet the expectations of customers and target users. We also support software localization for less widely used languages, allowing for even greater market penetration and meeting the needs of diverse target groups.
Long-term partnership and cooperation with customers
One of the key aspects of professional software translation is building long-term partnerships with customers. At POZENA Multilingual, we strive to establish lasting customer relationships based on trust, cooperation and mutual understanding. We are aware that the success of our clients is also our success, which is why we focus on open communication, mutual support and flexibility in the implementation of translation projects. Our approach allows us to adapt to customers' changing needs and provide services at the highest level of quality.
Monitoring of software translation innovation
The software industry is a dynamic sector that is constantly evolving. At POZENA Multilingual, we constantly monitor trends and innovations in software translation to provide our customers with services per the latest standards. We are open to new technologies, working methods and approaches that can increase the efficiency of the translation process and the quality of the services provided. Regarding code and software translation, our focus is mainly on emerging new formats and ways to integrate systems.
Marketing Adaptation
Professional software translations do not only cover technical aspects but also marketing adaptation. The POZENA Multilingual ensures that software translations are properly adapted to the target market, considering cultural and communication aspects. Thanks to this, our translation services help clients gain a competitive advantage and build a strong position in international markets.
Wide range of additional services
POZENA Multilingual also offers a wide range of additional services related to software translation. These include, among others, editing and proofreading of translations, localization of multimedia (audiovisual translations), development of technical documentation, as well as consultancy and advice on translation processes and implementation of automation on international markets. Thanks to these additional services, we are able to provide our customers with comprehensive support.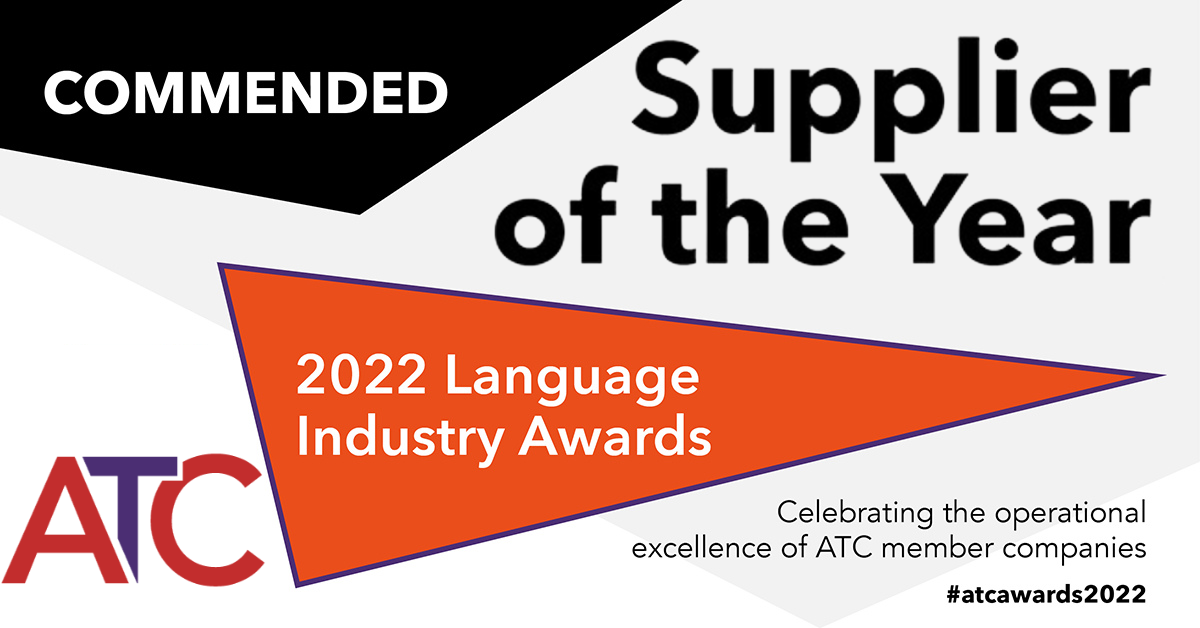 The kindness and appreciation expressed by clients daily bring us immense joy. Feedback shapes our formula and motivates us to strive for continuous improvement, learning and effort.
We are incredibly proud when our daily work leads to prestigious global recognition. POZENA Multilingual was recently Commended at the grand annual gala of the Association of Translation Companies, one of the world's preeminent language industry organizations. We are immensely thankful for this gesture of peer recognition.