Polish for MLVs & LSPs
Polish localization by in-country linguists
friendly world-class service
transparent pricing
all industry extras
Introducing POZENA's
Award-Winning*


Polish SLV Service


for the World's MLVs
At POZENA, we recognize that Language Service Providers in the UK, Ireland and the United States may face unique challenges in providing high-quality Polish translation services to their clients.
POZENA Multilingual's award-winning Polish Translations Service is designed to cater to these needs, ensuring that LSPs and MLVs can access a seamless, professional, competent and cost-effective solution.
By partnering with us, MLVs can be confident that their clients will receive exceptional translations that meet the industry's stringent standards. POZENA's curated team of expert linguists - both inhouse and externally managed - and project managers work closely with your own to understand your projects' specific requirements and deliver translations that accurately convey the source text's intended meaning, tone, and style.
With POZENA Multilingual of Poland, MLVs and LSPs can streamline their workflows, reduce costs, and provide their clients with quality Polish localization.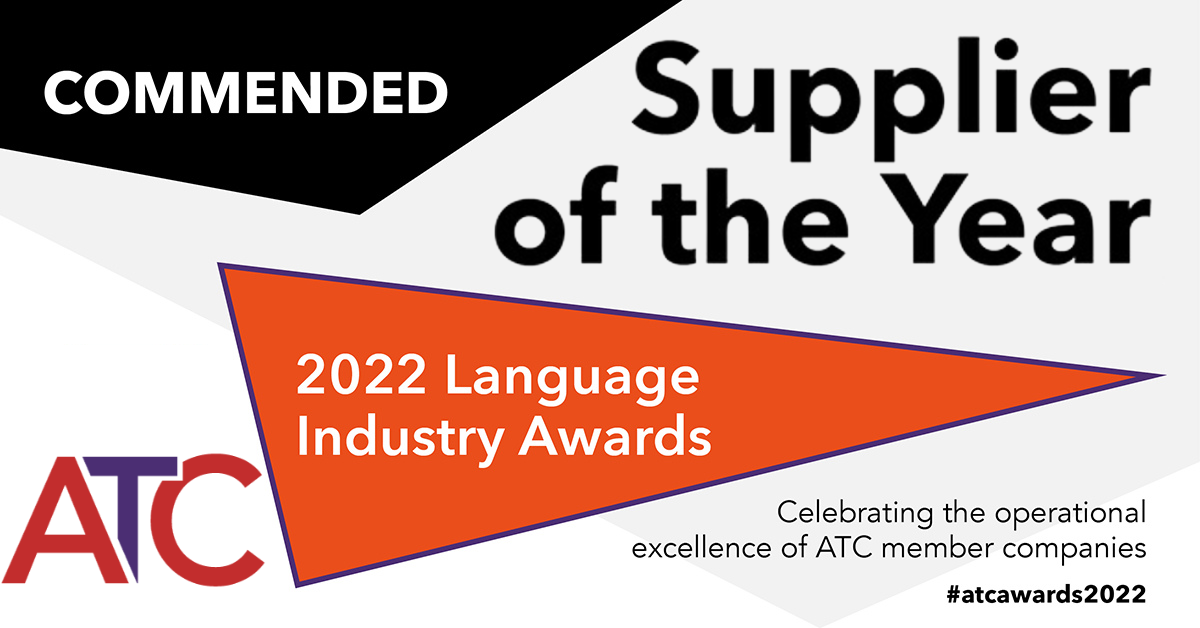 *The kindness and appreciation shared by our clients daily bring us immense joy, and their feedback shapes our formula and fuels our continuous improvement.
POZENA Multilingual was recently Commended at the annual industry gala hosted by the ATC, United Kingdom's Association of Translation Companies, one of the most prominent organizations in the worldwide language industry.
We are immensely thankful for this overwhelming gesture of peer recognition.
Comprehensive Polish Services for Localization Companies
Extensive Range of Polish Localization Services
Our Polish Translations Desk offers a comprehensive suite of services to suit the diverse requirements of MLVs and LSPs, including
Polish xliff package translation,

Polish website localization,

Polish audiovisual translation (including transcription, subtitling, closed captioning and voiceover),

Polish interpretation services
We also regularly undertake substantial Data Annotation projects on behalf of our current MLV clients, destined for many end-client household brands and some of the largest multinationals in the world.
Our expertise and resources enable us to handle any translation project, regardless of size or complexity.
Industry-specific Polish Language Expertise
We recognize the importance of industry-specific knowledge in delivering accurate translations. Our Polish Translations Desk boasts a team of subject matter experts with experience in various industries, such as legal, medical, financial, technical, and marketing. This ensures that the translated content is both linguistically precise and contextually relevant.
Your Polish with Scalability and Flexibility
Our Polish Translations Desk has the capacity to handle large volumes of work, making it the ideal choice for LSPs seeking a reliable subcontractor. We can easily scale our services to meet your requirements, ensuring your clients' needs are consistently met.
Our Native Polish Linguists
Our Polish Translations Team comprises native Polish linguists with an in-depth understanding of the language and its nuances. This guarantees the highest linguistic accuracy and cultural sensitivity in all translations.
Rigorous Quality Assurance Process for Polish
We follow a strict quality assurance process as directed by ISO 17100 to ensure that all translations meet the highest standards of accuracy and professionalism. A second translator carefully reviews each "TEP" product, which is then once again final-checked by a PM team member, ensuring that the resulting translation is free from errors and inconsistencies.
Polish with Adherence to Industry Standards
As a professional language service provider, we understand the need to adhere to established industry standards. We are versed in global industry standards and apply consistent product packaging that you will easily recognise.
We use a wide array of regular modern industry technology, which you will find to be compatible with yours.
Cost-effective Polish Localization Solutions
By partnering with our POZENA Multilingual, LSPs can benefit from cost-effective solutions without compromising on quality. Our reasonable pricing enables LSPs to maintain healthy profit margins while providing their clients with exceptional translations.
Polish Localization with Fast Turnaround Times
We very much understand the time-sensitive nature of our translation industry and are committed to delivering projects within the agreed deadlines. Our Polish Translations Desk offers consistently fast turnaround times, enabling you to meet clients' demands and maintain a strong reputation for reliability.
Polish Translations with Confidentiality and Data Security
We recognize the importance of protecting sensitive information and adhere to strict confidentiality and data security protocols. Our Polish Translations Desk ensures that all client data is safeguarded throughout the translation process, providing LSPs with peace of mind. Any person, natural and incorporated, coming in contact with any of our projects will have their relationship consistently managed by a signed NDA.
Dedicated Localization Project Management
Our Polish Translations Desk assigns a dedicated Lead Account Manager to each industry client, ensuring smooth communication and seamless project coordination. This allows client MLVs to focus on their core activities while we handle their Polish localization with the utmost professionalism.
Seamless Integration
We understand the importance of seamless collaboration between MLVs and their subcontractors. Our Polish Translations Desk is committed to working closely with your team, ensuring smooth integration with your existing workflows and processes. This enables you to provide a consistent and cohesive experience to your own clients.
Ongoing Partnership
Our partnership with LSPs and MLVs extends beyond individual projects. We offer ongoing support and collaboration, helping you stay ahead of industry trends and continuously deliver your Polish translation offerings with quality and at scale. By working together, we drive mutual success and growth in the global language services market.
In conclusion, POZENA Multilingual's Polish Translations Desk offers LSPs based in the UK, Ireland, the United States and other geographies a much-needed strategic partnership that combines exceptional localization services, industry expertise, and cost-effective solutions.
Our dedicated team of native Polish linguists and subject matter experts, rigorous quality assurance processes, and commitment to confidentiality and data security make us the ideal choice for LSPs seeking to scale their Polish translation capabilities in a zero-risk way.
By partnering with our Polish Translations Desk, LSPs can confidently cater to the growing demand for high-quality Polish translations, providing their clients with the best possible service while maintaining healthy profit margins. With POZENA Multilingual, you can be assured of a reliable, professional, and long-lasting partnership that, as we know, drives all success in the global language services industry.