Translation of digital
e-learning packages
E-learning is a convenient way of transferring and testing knowledge using software the participant uses individually on the Internet or offline on their personal device.
The astonishing popularity of the e-learning concept is not surprising: allowing perfect scalability, e-learning can be very effective indeed, attractive, appropriately democratic, and more convenient than many traditional methods of teaching and training.
However, creating a world-class e-learning experience can be an intense challenge for enterprise clients. Therefore, it is only reasonable to adapt and reuse using existing valuable (if monolingual) e-learning assets worldwide - or plan for multilingual versions while creating a new e-learning experience.
We provide the ability to scale your valuable existing e-learning assets to extract additional value by localizing them into your desired languages for your various audiences.
This is where POZENA Multilingual comes in, delighted to respond to the localization needs of your corporate, organizational or educational e-learning projects. We offer the ability to scale your valuable existing e-learning assets to extract additional value by localizing them into your desired languages to benefit your teams in other countries or that of your clients, customers, users and other audiences.
Translation of e-learning training is a modern challenge that combines professional design, linguistic, multimedia and IT competencies. POZENA Multilingual will competently develop foreign language versions of your e-learning materials in any mainstream file format, including any multimedia like embedded videos, recordings and animations.
Frequently Translated
E-Learning Formats
Enterprise educational training will take the technical form of one of several popular e-learning file formats to create and share digital educational content.
The POZENA Multilingual will be happy to translate digital training, including multimedia materials, i.e. those containing audiovisual elements (films and sound recordings).
Here is a brief description of the data formats most often translated as part of the translation of e-learning training into English. German, French, Spanish, Polish and other languages.
SCORM translations (Shareable Content Object Reference Model): SCORM is a widely used standard for e-learning content. Allows you to create reusable learning objects that can be shared across different Learning Management Systems (LMS). SCORM packages usually contain HTML, JavaScript, and multimedia files.

xAPI translations (Experience API): xAPI, also known as tin Can API, is a newer e-learning standard that enables more flexible tracking of learning experiences. It allows you to collect data from various sources, including mobile devices and simulations.

HTML5 translations: HTML5 is a markup language for creating web-based e-learning content. It allows you to create interactive and multimedia content that can be viewed on different devices.

PDF translations (Portable Document Format): PDF files are commonly used to share e-learning content, such as e-books and textbooks. They can be easily viewed on different devices and can contain multimedia elements such as video and interactive forms.

EPUB translations (Electronic Publication): EPUB is an open standard for e-books that can include multimedia elements such as audio and video. It is easy to distribute and can be viewed on different devices.

MP4 translations (MPEG-4): MP4 is a video file format commonly used for e-learning content such as instructional videos and webinars. It can be easily viewed on different devices and contain interactive elements such as quizzes and surveys.

MP3 translations (MPEG-1 Audio Layer III): MP3 is a sound file format commonly used in e-learning to share audio recordings such as lectures, language lessons, or podcasts. MP3 allows you to compress audio files without losing significant audio quality, allowing you to easily share and download audio files online. MP3 files can be played on various devices, such as computers, smartphones, tablets and MP3 players, making them a popular format among creators and users of e-learning content.

PPTX translations (PowerPoint Presentation): PPTX is a file format for creating PowerPoint presentations. These presentations may include text, images, video, and audio. PPTX is often used in e-learning to create didactic presentations such as lectures or presentations.

DOCX translations (Microsoft Word Document): DOCX is a file format used to create text documents in Microsoft Word. In e-learning, DOCX can create teaching materials such as instructions or textbooks.

DOC translations (Microsoft Word Document): DOCX is an older file format used to create text documents in Microsoft Word.

In e-learning, DOC can be used to create teaching materials such as instructions or textbooks.
SWF translations (Shockwave Flash): SWF is a multimedia file format often used in e-learning to create animations, interactive presentations, or educational games.

SWF can include graphics, sound and video.

FLV translations (Flash Video): FLV is a file format often used in e-learning to share videos such as instructional videos or presentations. FLV enables video transmission on the Internet with minimal quality loss.

GIF translations (Graphics Interchange Format): GIF is a graphic file format often used in e-learning to create animations or presentations. GIFs can contain animated images and are easy to share and browse online.

PNG translations (Portable Network Graphics): PNG is a graphic file format often used in e-learning to create images or diagrams. PNG allows you to create images with a transparent background, making it ideal for creating interactive diagrams or diagrams.

ODF translations (OpenDocument Format): ODF is a file format used to create text documents, spreadsheets, and presentations in office programs such as LibreOffice and OpenOffice. ODF is an open standard, which means that it ​​is available to everyone and does not require paying for a license.

CSV translations (Comma-Separated Values): CSV is a file format that stores and processes tabular data. CSV is often used in e-learning to store the results of quizzes, surveys and other forms.

XML translations (Extensible Markup Language): XML is a markup language used to store and process data. In e-learning, XML can store and exchange data between different systems.

JSON translations (JavaScript Object Notation): JSON is a data format often used in e-learning to store and exchange data between different systems. JSON is often used in web applications. JSON files can be coded as specifically bilingual, or we can swap the existing language content inside the file for another.

RTF translations (Rich Text Format): RTF is a file format used to store formatted text. In e-learning, RTF can be used to create instructions or training documents.

TIFF translations (Tagged Image File Format): TIFF is a graphic file format often used in e-learning to store high-quality and high-resolution images. TIFF is often used to store scans of documents or photos.

WMV translations (Windows Media Video): WMV is a file format often used in e-learning to share videos, such as instructional videos or presentations. We offer various services for video content translation including transcription, subtitling, captioning and dubbing.

SVG translations (Scalable Vector Graphics): SVG is a graphic file format often used in e-learning to create vector images such as diagrams, charts, and diagrams. SVG is scalable, meaning the image can be enlarged or reduced without losing quality.

FLAC translations (Free Lossless Audio Codec): FLAC is a sound file format often used in e-learning to store audio recordings such as lectures or podcasts. FLAC allows you to compress audio files without losing audio quality, allowing you to easily share and download audio files online.

OGG translations (Ogg Vorbis): OGG is a sound file format often used in e-learning to store audio recordings, such as lectures or podcasts. OGG allows you to compress audio files without losing audio quality, allowing you to easily share and download audio files online.

XLSX translations (Microsoft Excel Spreadsheet): XLSX is a file format used to create spreadsheets in Microsoft Excel. In e-learning, XLSX can be used to create training content such as tables or assignments.

M4A translations (MPEG-4 Audio): M4A is a sound file format often used in e-learning to store audio recordings such as lectures or podcasts. The M4A is optimized for Apple devices and can be easily played back on iPhones and other Apple devices.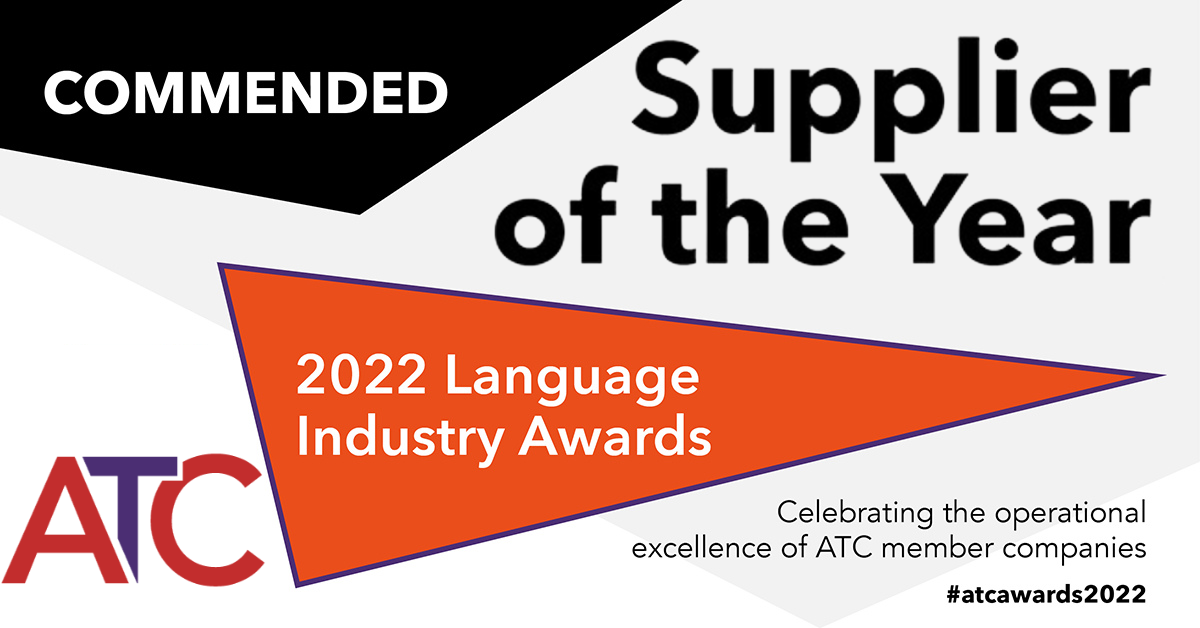 The kindness and appreciation expressed by clients daily bring us immense joy. Feedback shapes our formula and motivates us to strive for continuous improvement, learning and effort.
We are incredibly proud when our daily work leads to prestigious global recognition. POZENA Multilingual was recently Commended at the grand annual gala of the Association of Translation Companies, one of the world's preeminent language industry organizations. We are immensely thankful for this gesture of peer recognition.