Professional translation of films, videos and recordings
At POZENA Multilingual, we offer a wide range of services related to translating audiovisual materials to effectively communicate content to an international audience. We ensure that our translations are accurate, attractive and consider cultural and linguistic specificities, making them valuable to our clients. Regardless of the type of audiovisual material, POZENA Multilingual provides professional translation services at the highest level.
Translation of advertising materials
POZENA Multilingual offers translation of marketing multimedia content, such as corporate advertising videos, product demos, longer knowledge talks and promotional videos.

Professional advertising translations help companies reach an international audience and increase their visibility in foreign markets. Our translations consider the cultural and linguistic context, making advertising materials accessible and attractive to audiences from different countries. We ensure that the translation conveys the content, emotions, and marketing message, increasing the effectiveness of advertising campaigns.
Translation of corporate films
Corporate films serve as crucial internal and external communication tools for companies to showcase their communication strategy engagingly. POZENA Multilingual provides professional translations of corporate films, enabling companies to effectively communicate their message and values to a global audience.
Our top-notch translations make corporate films a seamless watch for potential clients, customers, business partners, and investors from different regions. We consider linguistic and cultural nuances, ensuring that international audiences comprehend the essence of corporate films.
Translation of educational materials
POZENA Multilingual takes pride in its expertise in translating educational materials. We know that instructional videos, multimedia presentations, and e-learning courses are vital in providing training and education to employees, partners, and customers worldwide. Our team of professional translators carefully considers linguistic and cultural nuances to ensure that the educational materials we translate are accurate, engaging, and accessible to audiences across the globe.
We understand that every educational material has unique content, tone, and audience. That is why we go the extra mile to tailor our translations to meet our clients' specific needs. We are committed to adding significant value to our customers' efforts to expand their reach and impact. Our high-quality translations help organizations break language barriers and deliver consistent, innovative training to their global audience.
With POZENA Multilingual's professional translations of educational materials, your organization can expect top-notch quality that accurately conveys your original content's message, tone, and style. We are passionate about providing our clients with the best translations that meet and exceed their expectations. Trust us to help you take your educational materials to the next level and make them accessible to audiences worldwide.
Translation of dialogue in films and TV series
POZENA Multilingual's team of experts can translate dialogue for films and TV series, ensuring that cultural nuances and language specifics are considered to convey the emotions and meaning of the dialogues accurately. Our translations also preserve the natural tone of speech, making it sound authentic and convincing to the audience.
For recordings, we collaborate with professional voiceover actors who have the necessary skills to provide compelling narrations, thereby contributing to the success of film and series distribution in international markets. With POZENA Multilingual's translation services, your audience can experience the magic of films and TV shows from different countries without missing a beat. We pride ourselves on delivering high-quality translations that will give viewers an unforgettable experience.
Trust us to bring your audiovisual productions to life in any language, and let us help you captivate your global audience.
Subtitle generation and subtitle translation
POZENA Multilingual offers the sought-after service of translating subtitles for media creators and enterprise clients.
Our quick and accurate translations allow viewers to fully immerse themselves in the original language version of films and series, gaining a deeper appreciation of the culture and language of the production's origin.
We understand the importance of adhering to the media industry's standard technical parameters, such as the number of characters per line and precise time synchronization with the imaging. This ensures a comfortable viewing experience for your audience, where they can effortlessly engage with your audiovisual content.
Our team of subtitle specialists takes great care to ensure a polished and refined result that surpasses your audience's expectations. Let us help you captivate your viewers with our high-quality subtitle translations.
Dubbing
Dubbing is an art form that requires precision and creativity. At POZENA Multilingual, we take pride in our professional dubbing services, which enable you to engage with a global audience and expand the reach of your audiovisual productions.
Our expert team of qualified voice actors and dubbing directors work tirelessly to ensure that every nuance of emotion, atmosphere, and characterization is accurately conveyed in the dubbed version. We carefully select the appropriate voices and prepare the actors in high-quality recording studios to deliver a polished and refined result that our clients love.
By dubbing your audiovisual productions, you can reach a wider audience who may not be familiar with the original language, increasing the popularity of your work on the international market. Our dubbing services are of the highest quality, and we guarantee that the dubbed version will be just as captivating and authentic as the original.
Trust us to help you expand your audience and make audiovisual productions accessible to viewers worldwide. With POZENA Multilingual's professional dubbing services, your work will leave a lasting impression on your audience, and your message will be communicated clearly and effectively.
Voice-over
Voice-over is an incredibly useful technique that allows audiovisual content to be understood by international audiences. POZENA Multilingual has a team of highly experienced voice-over interpreters who can fluently convey the content in voice-over translation, making it easy for viewers to understand.
This technique is particularly popular for educational, documentary, and corporate materials where information needs to be conveyed quickly and effectively in different languages. Voice-over allows viewers to focus on the visuals while listening to the translated audio in the background, making it easily accessible to an international audience and contributing to the reach and impact of these materials.
At POZENA Multilingual, we understand the importance of delivering high-quality voice-over translations that accurately convey the original message. Our team of experts takes great care to ensure that the translated audio matches the tone and style of the original, providing an immersive and enjoyable viewing experience for the audience.
Whether you need voice-over translations for a promotional video, a product demo, or an instructional video, we have the resources and expertise to meet your needs. Trust us to help you expand your audience and make your audiovisual materials accessible to viewers worldwide.
Transcription and translation of the transcription
Transcription is the process of converting speech into text, which is often applied to audiovisual material.

POZENA Multilingual offers transcription translation, which allows audio content to be made available in a textual form that is easy to analyse and edit. Transcription translation can be used for interviews, conferences, podcasts or educational videos.

Through accurate translation, transcriptions become available to an international audience, increasing the reach and impact of these materials. POZENA Multilingual guarantees high-quality translation of transcriptions, taking into account linguistic and cultural specificities, which allows the message to be better understood by audiences from different countries.

Transcription of source audiovisual material is sometimes underestimated, but it is critical to the success of any video published online, such as on the popular YouTube platform. In addition to all the obvious advantages of transcription for the user/customer, the inclusion of spoken content in the YouTube system informs indexing systems such as Google of the recording content, which increases the chance of it being correctly indexed and favourably positioned in search results.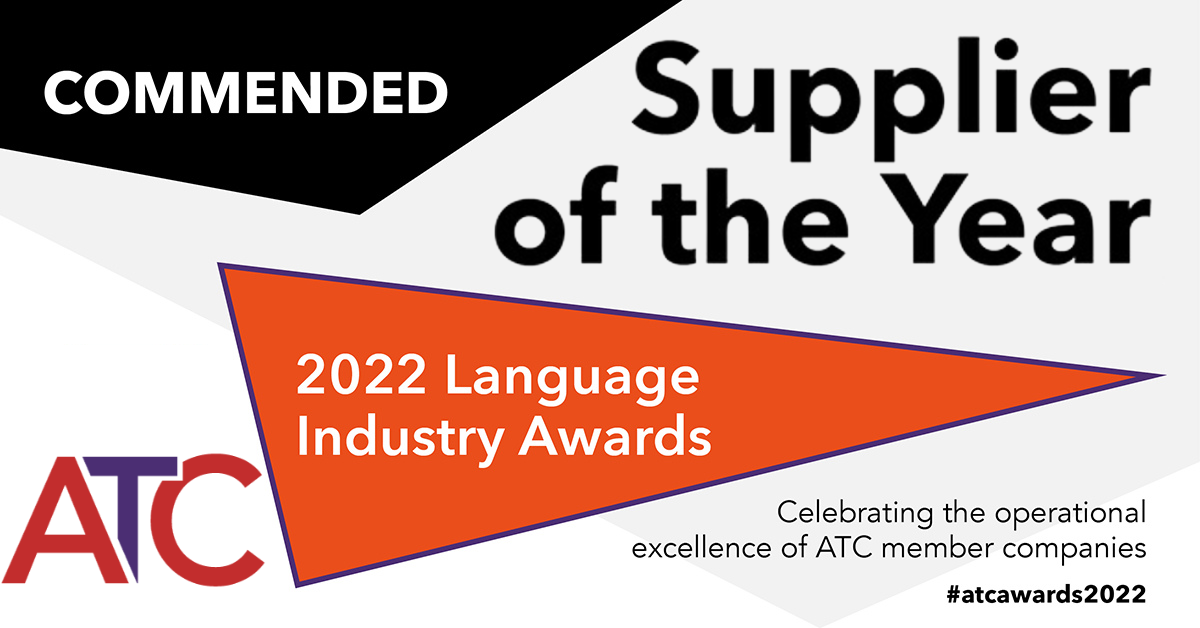 The kindness and appreciation expressed by clients daily bring us immense joy. Feedback shapes our formula and motivates us to strive for continuous improvement, learning and effort.
We are incredibly proud when our daily work leads to prestigious global recognition. POZENA Multilingual was recently Commended at the grand annual gala of the Association of Translation Companies, one of the world's preeminent language industry organizations. We are immensely thankful for this gesture of peer recognition.