Why have your Desktop Publishing and Graphic Design projects professionally translated?
By entrusting your DTP translation projects, such as Adobe InDesign files or Microsoft PowerPoint presentations, to the experts at POZENA Multilingual, you can save on costs. With our experience, efficiency, and proven work processes, we offer translation services of the highest standard at competitive prices.
Moreover, our services don't just include translation but also editing, proofreading, and layout work (typesetting), eliminating the need for additional resources. In comparison to internal project execution, POZENA Multilingual assumes multiple roles for you simultaneously - translator, verifier, DTP graphic designer, project manager, and even the printers and the couriers - in the form of a cohesive, high-value service - while your in-house teams can dedicate their valuable time to strategic activities.
Multilingual support
POZENA Multilingual is your go-to solution for professional translation support in various languages and specializations. With a team of qualified translators, we offer high-quality translation services that allow our clients to reach audiences worldwide.
In comparison to translating in-house, clients report that the more obscure the language, the more difficult it is to execute such a project with their own resources without distracting colleagues from more important tasks and risking low quality by replacing the professional setup - translator, verifier, proofreader, project manager - with processes and solutions that might be more random and less controlled.
Trust POZENA Multilingual to provide the expertise and experience to deliver precise translations that accurately convey your message to your target audience, regardless of language, every time.
Preserving data integrity
Professional translation of DTP projects, such as PowerPoint (.pptx) or InDesign (.indd) files involves preserving the data integrity of the source documents.
At POZENA Multilingual, we ensure that all graphic elements, tables, charts, and illustrations are accurately translated and preserved according to the original design. This guarantees that our clients receive translations that faithfully reflect their original materials.
Most organizations could achieve a similar effect with their own resources - but why bother? Without professional translation tools and the involvement of individuals who specialize in such work daily, attempting to complete this process internally can be time-consuming, costly and frustrating, resulting in low-quality output due to lack of control. We invite you to try our professional and cost-effective translation services instead.
Quality and timeliness
POZENA Language Centre ensures high-quality translations and punctual completion of all assignments, which naturally includes DTP projects that are quite intuitively routine for us. Due to their superior technical refinement and flexibility, we decidedly prefer working with InDesign files over the more popular PDF format from the same manufacturer (Adobe).
We can deliver translations that meet the expected standards thanks to our experienced team of translators, editors, graphic designers, and well-honed quality control processes. For translations of DTP projects and multimedia presentations, out of the four offered modes of execution (controlled quality levels), we strongly recommend the one specifically designed for the external publication of significant content - the "premium professional translation".
Competent Translation of Multimedia and Audiovisual Elements in Graphic Projects
We're observing how the boundary between various graphic formats and presentations is blurred - materials published by modern organisations, regardless of file formats and software origin, converge towards a similar, attractive multimedia form for the target audience.
This implies an increasing use of audiovisual components in files and presentations - rich graphics, moving images, and full videos launched from within the document, such as a series of YouTube videos embedded in the document. Naturally, client content translation includes the competent translation of audiovisual elements.
This, of course, is a skill distinct from text translation, requiring a variety of additional competencies - knowledge of techniques, possession of specialist software, and the ability to utilise it professionally. Fortunately, translating contemporary audiovisual elements is also one of our key competencies. Our proposals are preceded by a personal analysis of the source material, which identifies all project components and allows us to offer comprehensive localisation solutions.
Adaptation for Local Markets ("Localisation")
Professional translation of DTP projects allows for adjusting materials to local markets, considering cultural specifics, language, and business conventions. POZENA Multilingual is involved in text translation and the adaptation of materials to meet local recipients' expectations. Consequently, our clients can gain a competitive advantage in international markets.

Undertaking internal localisation is possible and even recommended - it constitutes the primary activity of a stable native marketing function in the client's branches in each of their target geographic markets. After all, no one will localise a client's own content better than the client themselves; they may not necessarily do it effectively, swiftly or with good quality, but certainly, the author of the text will always be proud of it, satisfied, and will never hotly debate the phrases they themselves chose.

However, when a professional marketing department is sometimes lacking in every country, localisation can pose a challenge - not every client has easy access to a team of professional linguists operating in each target country, whom they can instruct to quickly and quickly reliably edit content for local market adaptation.

In these instances, the Language Centre comes to the rescue, readily providing a positive solution to this problem.
Professional Appearance and Aesthetics
Professional translation of DTP projects, such as Adobe InDesign files or Microsoft PowerPoint or Apple Keynote presentations, guarantees the documents' aesthetic and professional look. Thanks to the support of our experienced graphic designers and editors, POZENA Multilingual adapts materials to the client's aesthetic preferences, which often means preserving the original appearance and visual consistency of translations with the original layout file.

While this doesn't need to be identical, upon request, we're happy to work towards a different desired visual effect, especially as titles and text blocks typically vary in size after translation. The result of this process is attractive, consistent, and professional publications.

The task of professionally arranging page elements after translation often takes place internally - performed by the client's own graphic department. The matter becomes more complex when the graphics are provided to the client by an external partner - then this service can be unnecessarily costly, or even using the graphic department's service may be entirely impossible. In these instances, POZENA Language Centre comes to the rescue, offering an excellent alternative and ensuring the translation of InDesign projects, presentations, and comprehensive graphic formatting.
Precise Terminology Management
At POZENA Language Centre, we place great emphasis on terminology management in the translations of all projects, including DTP projects. The consistency and efficiency of terminology management are particularly crucial in this kind of project given their wide publication and impact on the client's image.

Our translators have access to specialist dictionaries, glossaries specially developed with and for the client, and industry tools that allow for precise and consistent terminology translation - within the project and between the client's subsequent projects.

As a result, our clients receive documents that are correct in terms of vocabulary and consistent in terms of industry terminology. This contributes to building respect and trust in the client's brand.
Shorter Time to Market
In today's global marketplace, time is of the essence, and businesses must act fast to stay ahead of the competition. That's where the professional translation of DTP projects can make all the difference.
By partnering with POZENA Multilingual, our clients can significantly shorten the time it takes to introduce their products, services, and marketing campaigns to international markets. Our swift and efficient translation process allows our clients to focus on creating the source content while we manage the localisation for their target geographic areas.
This way, they can quickly and nimbly adjust their materials to meet the specific needs of each market, giving them a crucial competitive advantage. With efficient localisation management, our clients can confidently move ahead in the global marketplace, knowing their brand is accurately represented and communicated to their target audience.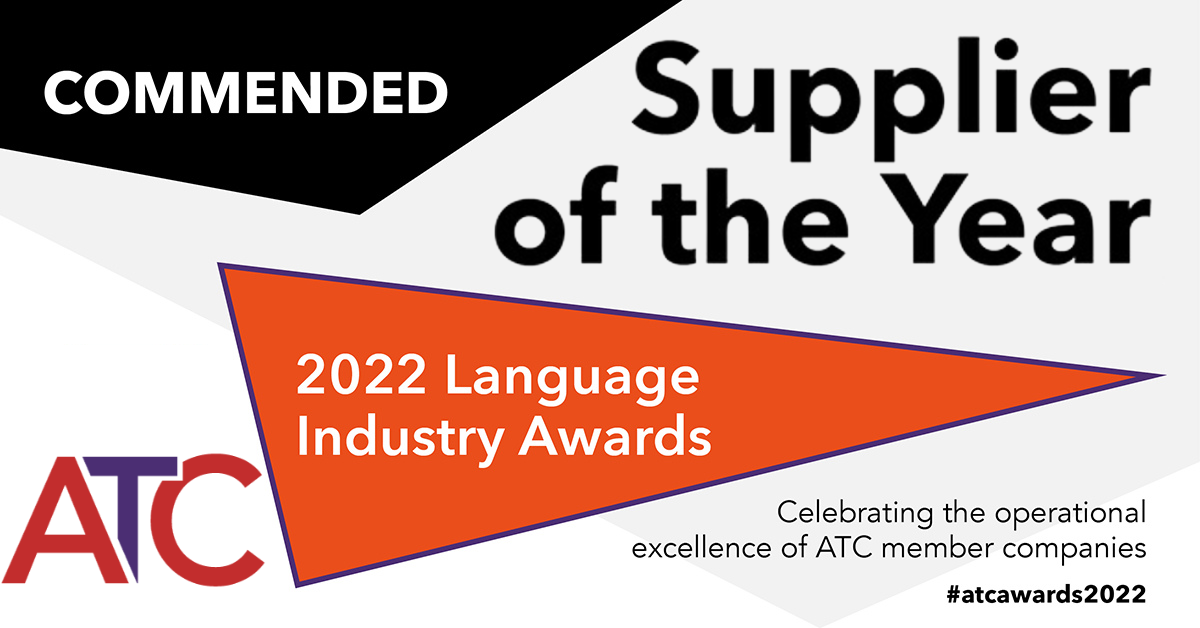 The kindness and appreciation expressed by clients daily bring us immense joy. Feedback shapes our formula and motivates us to strive for continuous improvement, learning and effort.
We are incredibly proud when our daily work leads to prestigious global recognition. POZENA Multilingual was recently Commended at the grand annual gala of the Association of Translation Companies, one of the world's preeminent language industry organizations. We are immensely thankful for this gesture of peer recognition.