Why should you consider our language training in
small groups

?

Choosing our group language training may be a smart investment for businesses looking to maximise their budget to develop their employees' language skills and enhance their organisation's international growth. With customised training programmes, qualified tutors, and modern teaching methods, we provide a cost-effective and efficient way to develop employees' language and interpersonal skills, strengthen corporate culture, and support continuous employee development.
Cost-effectiveness of group training
Choosing group language training offered by POZENA Multilingual is smart for businesses looking to maximise their budget for developing their employees' language skills and enhancing their organisation's international growth. Our group training is often more cost-effective than individual lessons, meaning that clients can train more participants at a lower cost per participant. Pricing depends on many factors, but it normally is not per person. Therefore, the service will likely be quite kind to your budget whenever we agree on a group delivery.
Customisation to client needs
The "groups" are only ever arranged for a single client - of course - so they are comprised of your own colleagues. No strangers.
POZENA Multilingual offers training programs, and schedules customised to your business needs and objectives. This means the group learning can be tailored to fit, and the group participants can be selected based on similar initial competencies. When preparing group training programmes, POZENA emphasises delivering practical skills that employees can apply in their daily work environment.
Effectiveness of learning in small groups
Our group language training programmes are designed to provide participants with an intimate and personalised learning environment. We understand that learning in large groups can be intimidating and overwhelming, which is why we only offer small-group training sessions. Our groups typically comprise 2-5 participants, allowing maximum interaction and engagement with the tutor and other participants.
In these small groups, participants receive professional training from our highly qualified tutors. Our tutors are experts in foreign language teaching and employ modern teaching methods tailored to the needs of the participants. They provide personalised attention to each participant, ensuring they receive individualised support and guidance throughout the training programme.
Development of interpersonal skills
Group language training offered by POZENA Multilingual provides the opportunity to learn a foreign language and develop the participants' interpersonal skills.
Employees learn effective team communication, which contributes to increased productivity at work. During the sessions, participants can develop negotiation, presentation, and teamwork skills. All of these contribute to better professional relationships and increased efficiency at work.
Strengthening corporate culture
Employers can support their company's corporate culture by investing in professional group language training. Often in organisations, employees from different departments don't have the chance to get to know each other.
Learning a foreign language in small groups helps employees, who often come from different departments and positions, to connect socially and understand the synergy between various functions within the client's organisation. This in turn supports a positive working atmosphere and team efficiency.
Continuous development of employee skills
Participating in POZENA Multilingual's group language training fosters ongoing enhancement of employees' professional skills. Regular collaborative sessions promote consistent learning and mastery of new languages, directly improving work performance. With improved language skills, employees are more equipped to meet the needs of diverse clients, collaborate with international colleagues, and understand global markets, resulting in increased productivity and better customer relationships.
Continuous employee development keeps the workforce skills relevant, nurtures a learning culture, and boosts employee engagement, leading to higher retention. This investment also enhances the company's market competitiveness, as having a skilled, diverse, and adaptable workforce is crucial in a globalised, multilingual business environment. By offering such training, POZENA Multilingual equips businesses with the necessary tools to thrive in today's global market.
Qualified tutors and modern teaching methods
POZENA Multilingual is home to a team of highly qualified language tutors who bring expertise and real-world experience to their teaching. Our group training sessions are led by professionals who use modern, innovative methods tailored to suit participants' diverse needs and learning styles. They employ interactive exercises, engaging discussions, and various teaching tools to make learning a foreign language enjoyable and engaging.
Our tutors excel in creating a motivating atmosphere that fosters active participation and continuous improvement. They provide constructive feedback, celebrate progress, and assist participants in setting and achieving realistic learning goals. This approach boosts participants' confidence and makes the learning experience rewarding.
With this comprehensive approach, POZENA Multilingual ensures that learning a foreign language is not just effective but also enjoyable and personally fulfilling for participants. They leave our classes with improved language skills, a deeper appreciation for the language's culture, and an increased motivation to continue their language journey.
Varieties of
Group

Language Training
Online or On-Site
Group training from POZENA Multilingual is available in two main formats to meet the needs and expectations of our clients (companies) and participants.
Online group training allows for learning from any location, providing convenience and saving participants' time and the client's budget. Pricing does not need to include logistical costs such as venue rental or tutor's travel expenses.
On-site group training provides the participant with direct contact with the teacher and a friendly group of other participants. This is a very convenient form of class for those who prefer a traditional form of contact.
The choice of the appropriate form of training depends on individual preferences, goals, and participant availability, as well as the specifics of the company's business that invests in the language development of its employees and thus in the organisation's international development.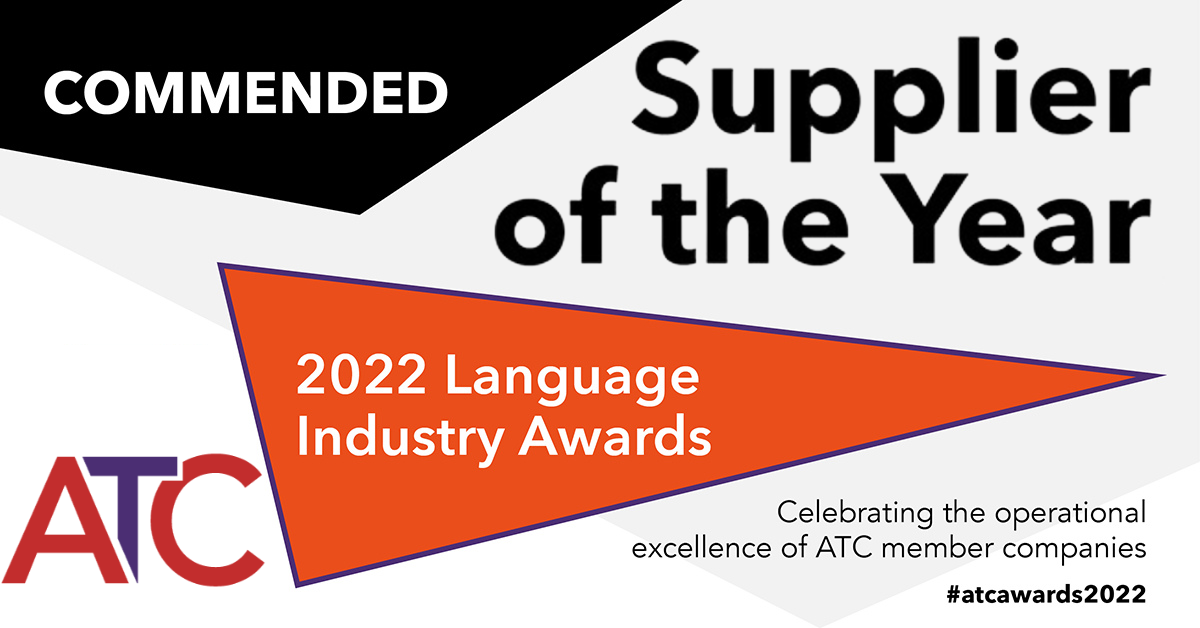 The kindness and appreciation expressed by clients daily bring us immense joy. Feedback shapes our formula and motivates us to strive for continuous improvement, learning and effort.
We are incredibly proud when our daily work leads to prestigious global recognition. POZENA Multilingual was recently Commended at the grand annual gala of the Association of Translation Companies, one of the world's preeminent language industry organizations. We are immensely thankful for this gesture of peer recognition.